Swarovski Crystal Bracelets
These bracelets will draw attention to you with their irresistible light? It's the Swarovski crystal, of course, and it's very hard to capture the sparkle with a camera (especially if I'm holding it). Swarovski crystal is a man-made crystal that is created using a process Daniel Swarovski perfected in 1892. Swarovski crystals are considered to be unparalleled in their quality in the jewelry-making world, and they are truly beautiful to behold. And to make them even more compelling is that some of the crystal colours that Swarovski makes will be made in a limited edition run or sometimes will even go out of production (leaving many of us scurrying around to all the vintage bead locations trying to find our favorite colours).
Swarovski crystals are a joy to work with, and I invariably find that I am smiling and spending a lot of time watching them move and twinkle in my hand or laying them our repeatedly in different colour combinations when I should be working!


---
Rapture
Wonderful color shines in this Swarovski crystal bracelet with gold-filled accents. The pretty gold bangles have a laser-cut design on them, and the toggle clasp is twisted. The large Swarovski crystal focal is a pretty shade of blue that Swarovski calls aquamarine. Purple, pink, and indigo add to the colorful mix. Perfect on your pretty wrist!
​Price: 78.99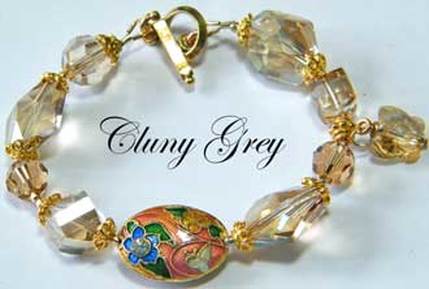 Carpe Diem
The discreet golden sparkle of Swarovski crystal's large cosmic and helix beads, the oval cloisonne focal with its rhinestone embedded in its face, the gold vermeil - what's not to love? Seize the day and wear this sparkling Swarovski and cloisonne bracelet and get noticed? The subtle golden of the crystals, the blue, peach, and yellow of the cloisonne means that this will go with so many pieces in your wardrobe, and will look great on you. A vermeil toggle clasp is the closure. A Swarovski crystal butterfly hangs from one side of the bracelet.






​
Price: 78.99
---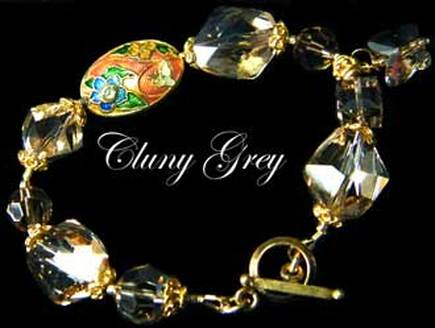 ---
---
---
---
---
---
---
---
---